As your kids are about to leave your home, there are a million and one things going through your mind. Often, the best place to find the answers to these is in the pages of a good book written explicitly for empty nesters.
That's why in this blog post, I'll be sharing with you 15 different self-improvement books for empty nesters to become more informed of what you're going through. The last one in the list is one that's very close to my heart, so be sure to check that out.
This book contains essays written by 31 different parents about their personal experiences on the days leading up to when their last child leaves their home and coping with the weeks immediately after.
The essays that journalist Karen Stabiner collected and included here in this book come not just from empty nesters that have traditional nuclear families. It also contains writings from single parents, gay parents, and even grandparents that raised their grandchildren. So you'll find the insights and scenarios in this book relatable and easily applicable to your situation.
Author Melissa Shultz shares her personal journey of dealing with the struggles and challenges she experienced the moment she officially became an empty nester: the empty house, the loneliness, the loss of her purpose in life.
Shultz also shares the steps she took to reinvent herself and transform her marriage, friendships, and her life to find her own happiness. The blend of practical steps and humor gives readers a breath of fresh air and relief that it's perfectly okay to focus on your going after what makes you feel happy and fulfilled.
This self-improvement book was hailed by Publisher's Weekly as "[a] useful parenting primer [for] readers who are in the process of readying their children to launch into adulthood."
Here, author and empty nester Brenda L. Yoder shares wise parenting tips to help you find the balance between staying a "mom" and giving your children the freedom they crave. It also touches on other topics like how to identify the self-defeating habits and patterns that come along with the painful emotions as you make the transition, and having the strength to release your kids in the real world without going gaga over it.
Sometimes, the best way to learn is by learning through the mistakes made by others.
In this inspirational and empowering book, author Maria Leonard Olsen candidly details the challenges she faced going through the struggles of transitioning to an empty nester first with her teenagers wanting more independence and then after she and her husband of 25 years divorced.
Rather than allowing her life to plummet further, Olsen decided to turn things around by making a conscientious effort to enjoy her life. From hiking the Himalayas to completing a knitting project, Olsen shares her adventures as well as the lessons and rewards she gained from these.
If the journey to becoming an empty nester is rough for you, this is one book I personally recommend to help you find your purpose and focus again.
If you're starting to feel like you no longer have a purpose the moment your children leave the nest, this self-improvement book is definitely for you.
In This Way Up, author Patti Clark weaves storytelling and practical wisdom as she teaches seven vital tools to help you rediscover your creative self and achieve your lifelong dreams through the eyes of Katya, a widow, and empty nester.
The book also includes daily journaling exercises that will help you shift your focus away from the loneliness and towards a life filled with joy, creativity, and fulfillment.
When you were younger, the thought of packing and hitting the road with no plans whatsoever was exciting. Fast forward this 18 or so years after, and you'd be surprised how that same idea can be scary.
That's precisely what author Veronica James felt when she and her husband, David, conjured up the idea. Unlike David who found the adventure exciting, Veronica—who was coming to grips with being an empty nester—wasn't too keen about the idea. Mainly because she realized that after years of devoting her life to her kids, she hardly knew her husband anymore.
This self-improvement book for empty nesters is a must read if you've been dreaming of going on an adventure with your spouse, but apprehensive of leaving your comfort zone behind. In the book, David and Veronica alternate in sharing their experiences, giving you two different sides and voices to how to view your life as an empty nester. It'll most definitely help you see that becoming an empty nester can open up a whole new world for you to discover.
In this book, author Candace Allan narrates the way how she came to grips with the empty nest syndrome as her four children fly the coop one after the other. The emotional rollercoaster ride that Allan went through is something that every mother that's about to become an empty nester can relate with.
At the same time, the writing style she used in this book cleverly lightens up an otherwise painful and emotional situation, making this an enjoyable read.
No list of self-improvement books for empty nesters would be complete without this.
Living up with the style we've come to know and love with every Chicken Soup for the Soul book, this one shares heartfelt and relatable stories of empty nesters and soon-to-be empty nesters.
From sending your kids off to college to rekindling your relationship with your spouse and living out your dreams, this self-improvement book for empty nesters will inspire, encourage, and enlighten you to this emotional, but exciting, chapter in your life.
In this book, Barbara Rainey and Susan Yates answers some of the most common questions that begin to flood your mind the moment you realize you're going to be an empty nester:
How do I stay in touch with my kids without nagging them?
What do I do now?
How do I revive my marriage?
The practical advice and tips they share in this self-improvement book come from their personal experience as thriving empty nesters that successfully redefined their roles as wives and mothers. So not only do you get answers to your most burning questions but also get inspiration from these remarkable women.
As mothers, one of the biggest challenges we face is accepting that our babies are all grown up. This book by Carol Kuykendall shares personal insight on how family roles should change along with practical advice on how to ease into this transition to give your young adults the independence and responsibility they want and need.
In this self-improvement book, husband and wife team David and Claudia Arp list the eight most common challenges that married couples face the moment they become empty nesters, and how to address them.
What's great about the insights they share here in this book is that the authors don't just pull the things they share here from their personal experience. Instead, they draw the details here from a survey they conducted on empty nester couples on their "second half" of their marriage.
The book also includes different strategies and exercises for you and your spouse to do to help you strengthen your marriage once your kids have flown the coop.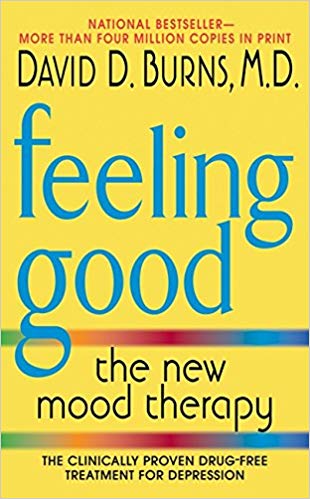 As you go through the transition of becoming an empty nester, you'll have to battle negative thoughts that can cause you to experience feelings of self-judgment, guilt, regret, anxiety, and depression.
Feeling Good is a self-improvement book focused on cognitive behavioral therapy, which is considered one of the most effective techniques used by psychologists to help empty nesters like you.
In this book, you'll learn to pinpoint the different self-defeating thought patterns affecting not just your mood, but also your self-image and your sense of purpose in life. It's also packed with exercises that you can do right in the comfort of your home so that you can change your thought process and beat these negative emotions.
There's an old saying, "you are what you eat."
In this book, authors Paul & Shou-Ching Jaminet dispel popular diet fads by teaching you what to eat based on decades of research. The things they share here will help you stay fit and healthy in this new chapter in your life. At the same time, you can start making better food choices so that you avoid those that would cause you to feel tired, sluggish, and in low spirits.
Whether you're about to become an empty nester by the end of this summer or not for another few years, this self-improvement book is both mind-opening and empowering.
In this groundbreaking book, Brené Brown teaches you that allowing yourself to be vulnerable puts you in a position of power and strength. Brown cleverly points out that being vulnerable gives you a sense of self-worth and cultivates a tender spot in our hearts. This helps you develop better and stronger relationships with your spouse, friends, and, most especially, with your kids.
As a life coach, empty nester, and single mom, I know first-hand what it's like to set aside your dreams so that your children can fulfill theirs. In fact, one of the things I personally struggled with in my journey as an empty nester was reconnecting with my life purpose while overcoming negative, self-defeating thoughts wishing that I could have done things better for my daughter and myself.
In this book, I share with you the strategies I used to defeat these negative thoughts and rediscover the gifts and talents that lay dormant. Through this, I strengthened the bond I have with my daughter and family as well as equip and empower me to live my dreams of having my own business.
I go more in-depth in this with those that go through my personalized coaching program. If you want to know more about it, feel free to reach out to me and let's talk more about it.
Are there any self-improvement books for empty nesters you've read but aren't listed here? Let me know more about it by sharing it in the comments below.
---